Firstly when you look at the picture please be aware Timberdise did NOT lay the path that leads up to the log cabin in the picture ha-ha. Since posting this on our social media we have had numerous comments asking if we also laid the path. The simple answer is no we didn't, we don't lay any kind of slabs or path as a business, apparently it was due to be properly done once the cabin had been finished after we had left, just the lady who ordered the cabin wanted something to walk to the cabin on after we had left.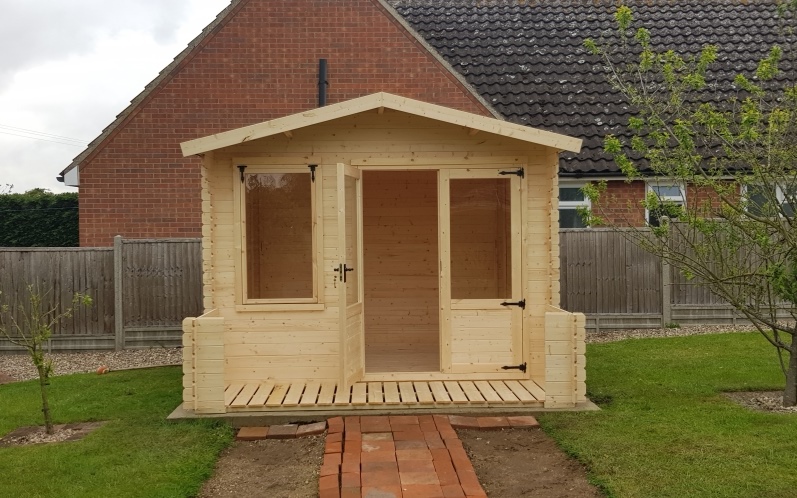 So anyway, back to the log cabin. Firstly let's talk about the beautiful town of Diss in Norfolk. This was a job where our installers are forced to stay overnight as it is too far to travel there and back in a day and do the work. We have travelled up and down this country of ours installing our beautiful wooden garden buildings but I have to say Diss in Norfolk is one of the most picturesque places in the UK that we have ever been to and we would love the opportunity to go back and build another log cabin in this awesome little town. We also had the opportunity to enter the village on the evening and sampled the local beers as well as sampling the local award winning fish and chip shop which I have to say was marvelous!
This cabin is a beautiful little example of a log cabin you can have in your own garden for a relatively small cost considering what you are getting for your money. This log cabin comes with 19mm interlocking tongue and groove logs. They offer a building which has a fantastic natural insulation from the log cabin and the buildings are perfect for use all year round. The lady that bought this cabin is getting electric fitted to the building and will be using as a place to escape the house so she can sit somewhere and enjoy her beautiful garden. Whilst we were there we were visited by pheasants and the occasional Deer, such was the beauty of the area we were installing this log cabin.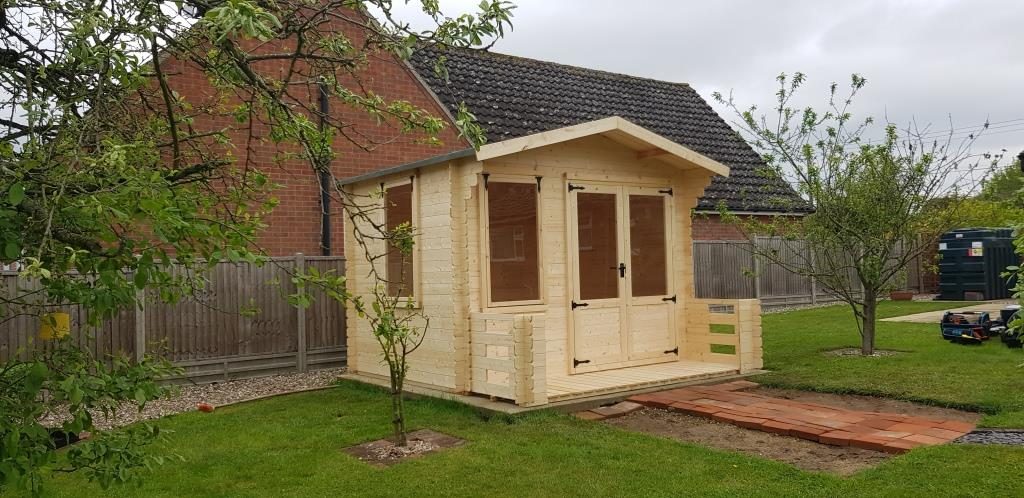 The log cabin also has a tongue and grooved roof and floor boarding and just like the walls of the log cabin these are all individually installed. The windows on this building are complete with safety glass for peace of mind and the doors also come complete with a lock. The building is very spacious and the dual windows on the log cabin allows lots of light into the building which is vital for the log cabin and gives it a nice bright and fresh feeling inside. There's a little bit more to these log cabins though as they come complete with a veranda. It just adds that little bit extra to the building and gives it a nice feeling upon entry into the building but also the ability to put a chair on there so you have somewhere to sit during those long warm summer evenings.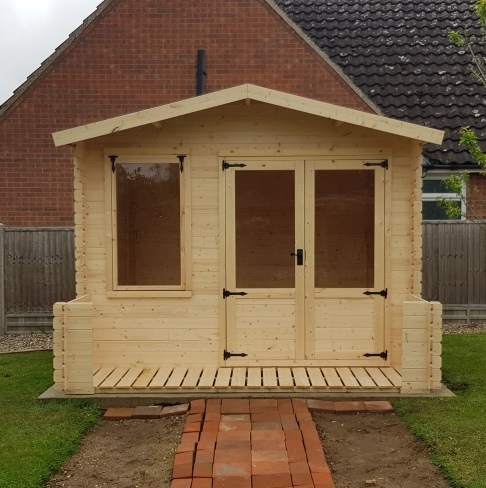 The customer had her own concrete base laid for this building before we arrived which is perfect but it wasn't laid 100% correctly which is vital for any log cabin building. Around the edge of the concrete base it was nice and level but it dipped quite considerably in the middle. Unfortunately whilst we were there it rained quite heavily which created a pool in the middle of the concrete base which isn't good for a wooden log cabin. We did speak to the customer who will now have to get some kind of sealant around the edges of the cabin to stop water getting underneath which could cause premature rotting. Just remember, concrete bases are great if laid correctly. They need to be completely flat and level, please check with the person or company who lays your concrete base to make sure they are capable laying the base correctly as it could have implications for your new log cabin long term.
If you have any questions about this or any other log cabin in our range please do not hesitate to call us on 01302 811838 or at support@timberdisegardenbuildings.co.uk
We look forward to seeing you soon.