Another day, another building and another city for our travelling installation teams. This particular day we were in the hilly city of Sheffield, South Yorkshire. The customer had opted for one of our smaller sheds from the budget overlap range complete with installation by one of our expert teams. But don't let the name budget put you off, these rustic looking little wooden sheds give their more expensive cousins the shiplaps a run for their money let me tell you.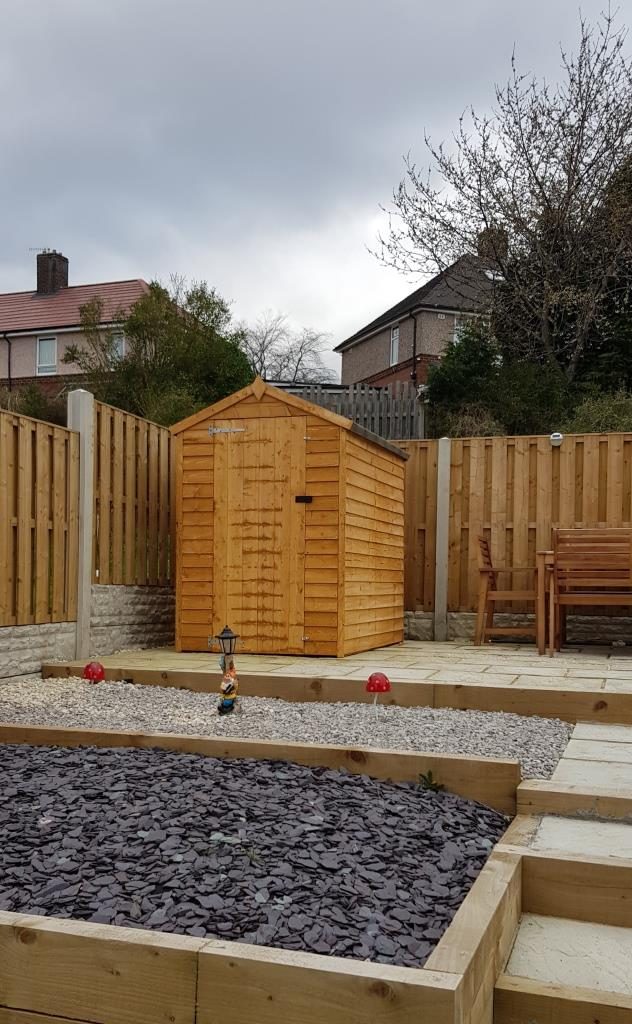 This customer had taken advantage of the 'Payl8r' monthly finance option that we offer now on the majority of our buildings. It's really simple with great rates and it helps some of our customers to spread the cost of the payment over a maximum of 12 months. It's really quick and easy to apply and you're given a decision immediately and if successful we normally call you the same day to confirm the order and book you in for one of our free delivery slots. What's even better is you only have to make the initial deposit payment to start with and you will normally receive your new wooden garden building long before your first instalment will be taken from your bank. For more information about this option please feel free to call us on 01302 811838 or email our support teams at support@timberdisegardenbuildings.co.uk
Anyway, back to the building. The first thing we have noticed about Sheffield is the amount of hills that the city is built on, we certainly put our vans through their paces on these roads. The roads leading to this particular address in Southey, Sheffield certainly had the van working on this particular day. When we arrived we realised the customer had just recently had all their garden landscaped and it was looking pretty superb in the early morning Friday sunshine and the customer was really excited to get the shed up and running as soon as possible so she could get all her new garden equipment in and out of the way so she could enjoy her new garden. We didn't disappoint either, within a couple of hours her new little 6×4 overlap apex wooden shed was ready to go.
Let's talk a little bit about the 6×4 overlap wooden shed. These sheds are great value for the money and perfect for anyone with a smaller garden who just would like something that will safely and securely store those garden items in. You could get some kids toys in these, maybe some bikes or just general garden things such as lawnmowers or BBQ's. Some people are put off by overlap sheds but there is absolutely no need to be as they more than hold their own against the shiplap varieties. So what is the difference I hear you asking? Well it's the wood, thickness and how the boards lock together. See overlap sheds are exactly that, 8mm boards that are fitted on top of each other running down the walls of the shed to offer protection from wind and rain whilst keeping your items locked safe away from unwanted visitors to your garden.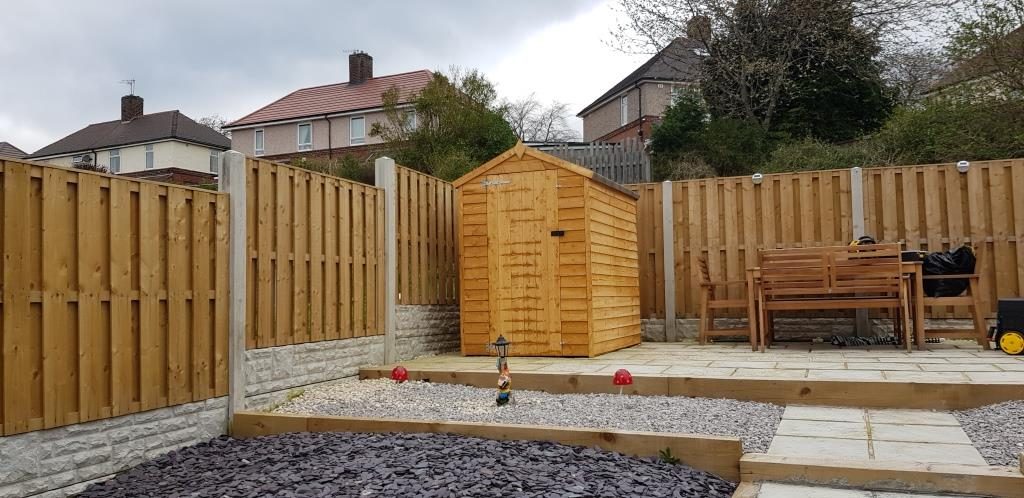 The sheds are also rough sawn which means they are rough to touch but I think that gives them a nice unique look opposed to the smooth planed shiplaps. Also the shiplaps are slightly thicker boards and the boards are tongue and grooved giving them a slightly more robust and rigid feel over the overlaps. The sheds all come with roofing felt and a shed floor as standard but as with most of our wooden garden buildings upgrades are available such as floor and roofing upgrades . These particular sheds come with a ten year anti-rot guarantee the same as the shiplap cousins and they also come with free delivery to Sheffield. Installation is an additional £99.99 and if you require a ground base this are £119.99 and that's the supplied and fitted. They really are a great little building and they will fit nicely in anyone's back garden.
If you would like any more information about this building or any other of our wooden garden sheds or wooden garden buildings please feel free to get in touch. Also remember that delivery is free to Sheffield and the majority of the UK, contact us today to order yours on 01302 811838 or email us at support@timberdisegardenbuildings.co.uk