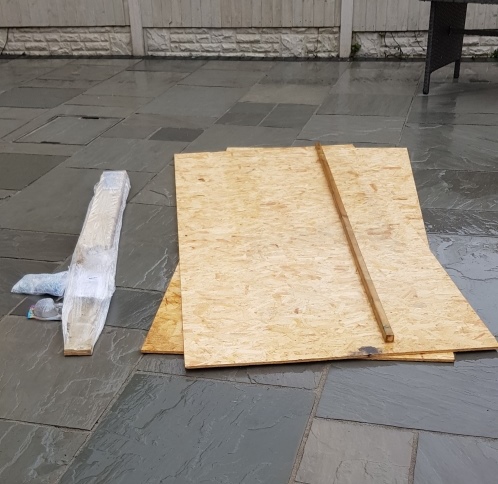 Firstly it was nice for our installation team to work more or less from home on this wooden garden building in Doncaster. We travel all over the country installing our wooden garden buildings and as I've said before we love seeing the different parts of this beautiful country we call home but every now and again it's nice to install a building in Doncaster. It basically means that as soon as the building is finished our installation team can have an early finish for that day because they're not fighting through the traffic and even if they were they would only be a few miles from home.
So anyway, back to the building. The customer had bought one of our pressure treated sheds which is new to the range as of this year. The customer had bought this building to replace a metal shed that wasn't particularly old but the customer let's say wasn't a fan of the metal sheds. I've got to be honest, even though we sell them here at Timberdise Garden Buildings I would have any wooden shed over both plastic and metal sheds. I think they look nicer, warmer and throughout the years if you look after the wooden shed by treating it every 12 months I think they age better. But this argument is for another day, maybe I will write a blog on the differences between wooden, plastic and metal sheds. Needless to say when we finished this little beauty the customer was very impressed with her purchase.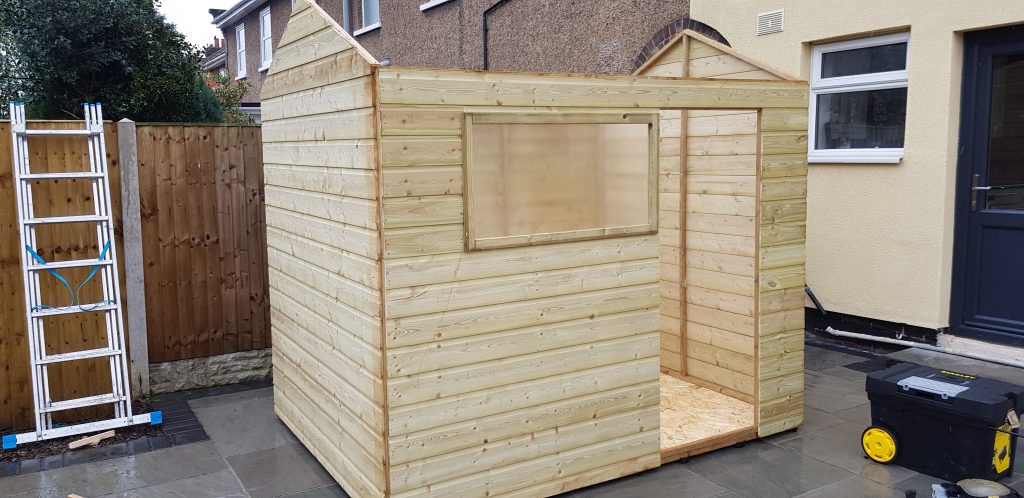 So the shed – well let's start with the fact that it's pressure treated and not dip treated, so what's the difference? Well, the name is a bit of a giveaway. Our standard sheds and majority of our wooden buildings come dip treated, which means they are lowered into a huge tank that is filled with our wood preservative which give the building a temporary protection against rotting when in storage or during transportation. This form of treatment also enables us to offer a ten year anti-rot guarantee on the building providing you maintain your own treatments on the building by painting/treating it once every twelve months. Now the pressure treated sheds are a little different. These buildings are placed in a special sealed container with preservative and then the pressure in these units is cranked up to a high level which basically forces the treatment into the wood. This then ensures the wood is treated and protected throughout giving the wood a greater protection against rot and enables us to offer a 15 year anti rot guarantee. Again, you still need to maintain your treatments every twelve months for the 15 year anti rot guarantee but in doing that you will ensure you get at least 15 years out of this building.
Do they look any different to normal sheds? No is the answer, in terms of their structure and the way they are built and look they are exactly the same as their dip treated cousins. There might be a slight difference in colour but their structure and build design is exactly the same as the shiplap wooden sheds on our site. The only question you need to ask is do you want to pay a little bit extra for your wooden shed to guarantee you at least an extra 5 years' service from your new garden friend?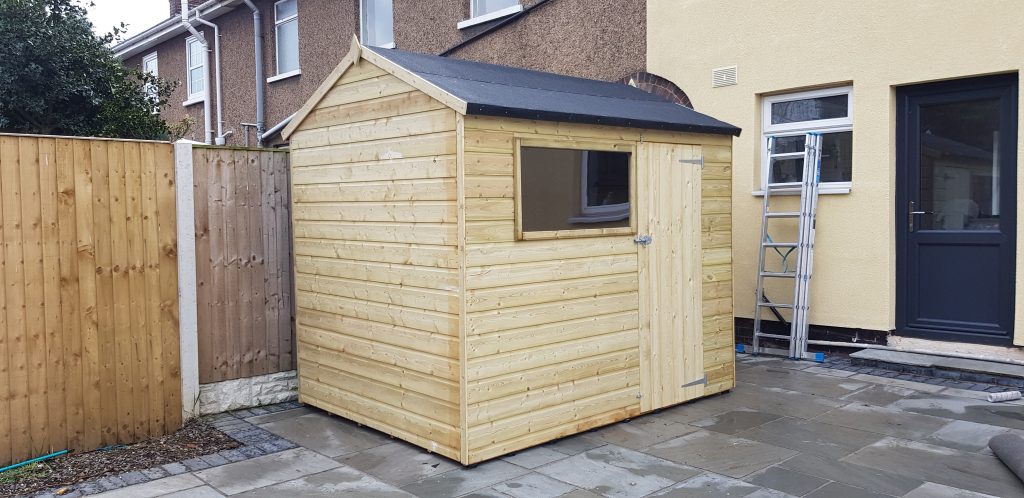 This customer also opted for the shed boot kits which we offer and may I add if you're not having a ground base from us and are thinking of putting the shed on concrete or slabs these little shed boots are well worth the investment. They're really cheap as an added extra but will aid in stopping the building prematurely rotting from the ground up. They do this by attaching to the floor bearers that sit under the floor of your wooden building and lift the building slightly off of the floor – so when it rains if there should be any water that pools on the concrete or slabs that you have the building on it will only wet the plastic boots and not the wooden shed. This is fantastic because pooling water on the floor that your wooden building sits in is one of the main causes of rotting. But because of these boots the floor will not get wet as the boots stop this happening. For the relatively small price it's one of the best investments you could make for your shed.
If you want any more information about this or any of our wooden garden buildings please feel free to contact us at support@timberdisegardenbuildings.co.uk or call our team on 01302 811838. Hopefully we will get more installation work in Doncaster as our teams like an early finish, so what are you waiting for? Order your new wooden building today.