Firstly let me just say I hope you all had a great Easter weekend and are now fresh and ready for the summer as it's about to start. Summer starter a little earlier for us this year at Timberdise Garden Buildings due to the little flurry of early sunshine that we had towards the end of February leading into March we have been busy since. We did however manage to get a couple of extra days off over the Easter period and are now back in full flow installing our beautiful garden buildings up and down the country. The job we want to share with you today however is probably our most popular summerhouse at the moment – which is the Vermont.
So the forecast for the day was rain but the installation team had nothing to fear as Hull was baking in full sunshine and created a bit of a sweat for our installers when building this beautiful modern summerhouse. Don't let the pictures fool you, these summer houses are BIG. The footprint of the summerhouse is 10x8ft, they have a beautiful double opening door that allows great ventilation in the summer as well as giving the building a real fresh and open feel to it. But it's the space within the building itself, boasting a rather imposing apex roof the very top of the buildings stands at almost eight and a half feet from the ground, it is huge. We regularly find our customers with the mouths wide open when they go up because they just don't look that big in the pictures. It's only when you get to see this great beauty in the flesh do you realise what a beast she really is. Because the roof is so high it gives the sense of lots and lots of room inside the building and of course there is.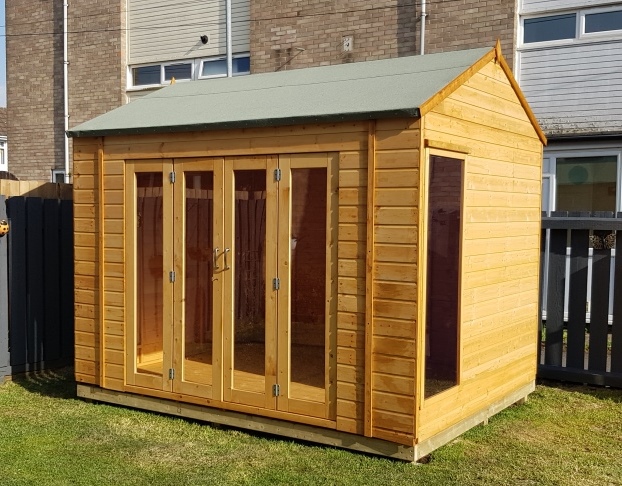 The Vermont feels like so much more than a summerhouse and we have had people that have used these from salons, to offices, somebody even put a hot tub in one (speak to us first before doing this though as we need to strengthen the floors for people wanting to do this. But this particular building was bought for a very lucky 9 year old girl as present from her mum. We honestly thought she was kidding when she said it was for her daughter. Apparently mum always wanted to buy her little girl a playhouse when she was younger but could never afford one but now she is too old for a playhouse she decided she would treat her 9 year olds to her very own summerhouse. They will be kitting it out with tables, chairs and hanging all her favourite posters on the wall and she actually got home from school before we finished and the look on her face was priceless when she walked into the garden. I must admit we have never installed a summerhouse for a 9 year old before, but it was worth it to see the excitement on her face.
Anyway, back to the building. They bought the building with one of our special ground bases that are constructed using 4×2 pressure treated timbers and raised off of the floor using 3×3 pressure treated legs. This gives the building a level and firm base upon which it can be erected as well as taking the building off of the ground to avoid getting wet as well as giving great ventilation to the underside of the building to prevent premature rotting. The Vermont consists of tongue and groove cladding on the walls and floor and the roof is a solid sheet board. Large windows and large bi-folding doors give this building a very bright and fresh feel to it as it allows lots of light in and also air on those hot summer days (well, we hope). The tongue and groove walls really give this wooden summerhouse a great feel as well as a real sturdy structure to ensure this summerhouse is ready to power through all the seasons.
Today we were installing in Hull (https://en.wikipedia.org/wiki/Kingston_upon_Hull), but who knows where we will be installing tomorrow. For more information about this building or any other wooden garden building please feel free to contact us on 01302 811838 or email at support@timberdisegardenbuildings.co.uk