10×8 Helios Summerhouse Installation in Huddersfield, Yorkshire
Huddersfield is a town we are becoming quite fond of and I think they are with Timberdise too. We seem to have had a lot of buildings being purchased online from our friends over in Huddersfield and we certainly do enjoy the trip. There is some beautiful sites to be seen  as you climb up into huddersfield, so much so that until I started doing this job I didn't realise how many beautiful sites there were to be seen, that is why when we get a job up there we look forward to the visit.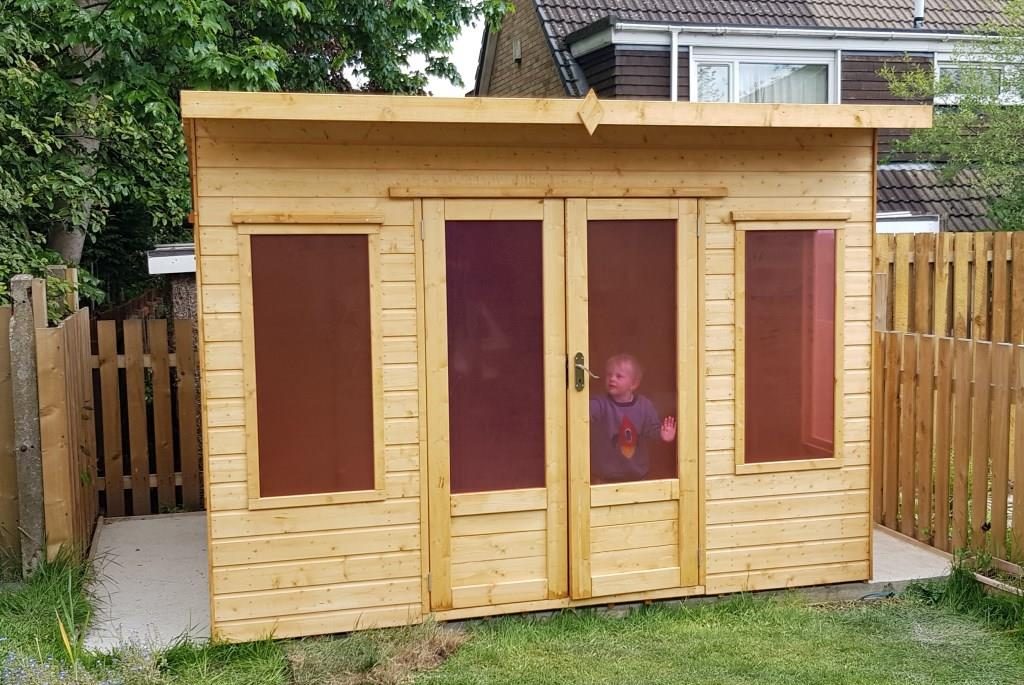 On this particular day in Huddersfield the sun was beating down all day which made the Helios wooden summerhouse a challenge in the conditions but one which our expert team of installers enjoyed thoroughly – we never moan when it's hot, just as long as it doesn't rain because that literally puts a dampener on the day.
So, let's talk about the reason why I am writing this blog in the first place and that is to tell you just how amazing the Helios wooden summerhouses are and how fantastic the curved roof is on them. The customer was really excited about this building as they wanted to use it for a place to escape during those long summer evenings into the summer and could not wait for us to get in ready. They bought this building with the guttering we provide as they wanted to be able to collect rainwater to water their plants as the customers were keen gardeners.
Now the Helios summerhouse is my favourite out of the range, I mean it's not every day you see a wooden summerhouse with a curved roof is it? But that's exactly what this summerhouse has – a curved roof. Now you might be thinking how can we do this and theory its quite simple. The walls of the summerhouse are cut into a curved position at the top of the walls. Roofing beams are then attached into specific positions along the top of the building that connect one side of the summerhouse to the other. With the beams ready it is then time to attach the tongue and groove roof to the top of the building. Gentle force is needed onto the boards to bend them into position and then secure using screws into the beams and along the top of the summerhouse walls to hold it securely in place and there you have it. A beautiful and perfect curved roof that is sat on the top of your Helios summerhouse, they really are quite impressive.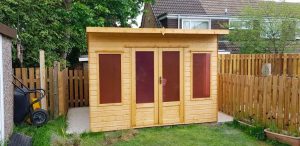 What also makes these buildings really impressive is there design and construction. The building is made using 12mm tongue and groove boarding throughout which gives this building a real solid and robust feel to it. The doors are nice and thick, and the frames of the summerhouse are more like the frames you would see on a log cabin not a summerhouse. There is lots of windows on the summerhouse which allows lots of light to enter the building so there is a nice bright and fresh feel to it – something that is an absolute must for any summerhouse worthy of the title.
Once the building was complete our customers grandchildren could not wait to enter the summerhouse and start to play in it. I asked if the building was for them both which they both nodded to say it was. The grandma laughing acknowledging that they probably would use it quite a lot when they went over to stay. The summerhouse was due to have an exciting start to its life as they were planning a surprise party in it for their daughter who was at work while we were there doing the installation. But we finished the installation of the summerhouse a good couple of hours before she was due home which gave them enough time to get the summerhouse ready.
For more information about this building please click this link https://www.timberdisegardenbuildings.co.uk/?s=helios or feel free to contact us on 01302 811838 or at support@timberdisegardenbuildings.co.uk