I don't know what it is about York and log cabins but we seem to do more log cabins in York (https://www.visityork.org/)  than anywhere else. We don't mind though, any excuse for us to visit the beautiful city of York to build a log cabin is an absolute pleasure.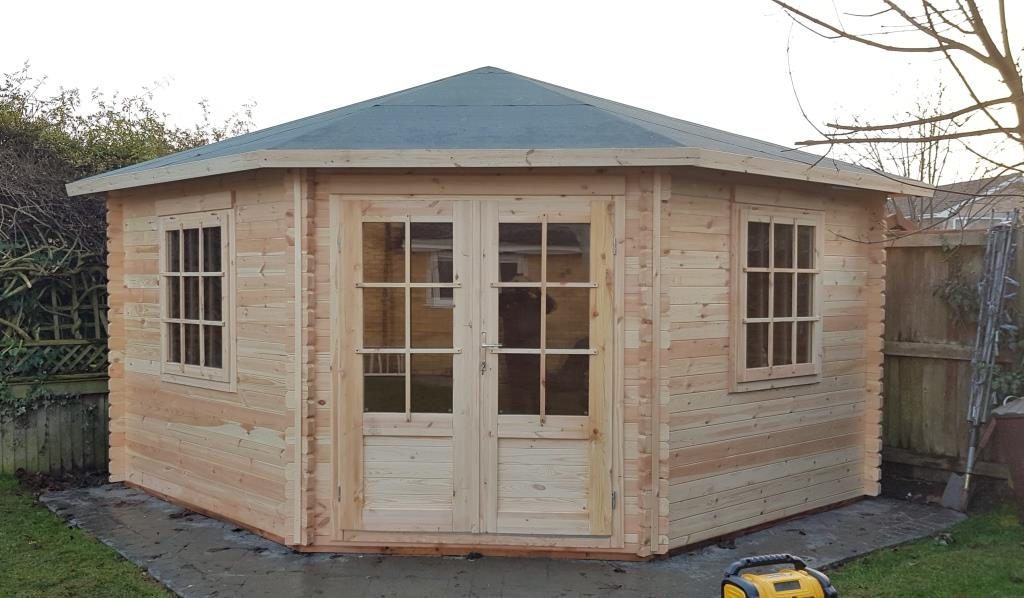 The customer of this particular cabin had bought a corner log cabin to finish off their garden which had just recently been completed by landscape gardeners. They'd had the turf, fencing and imprinted concrete to and couldn't wait for their new corner cabin to completely finish the garden off and I'm pleased to say Timberdise was happy to help and supply and fit their new log cabin.
So let's take a closer look at the building. If you have read my blogs before you will know I am passionate about my wooden garden buildings but I am particularly passionate about the log cabins that we sell. They are my favourite garden buildings to build, they can be quite challenging and a lengthy process compared to our other garden buildings but the finished product is worth the hard work because they are quite simply stunning once complete. It's not just the look it's the feel of the building and even better than that is the smell of the fresh timber. Some customers who we speak to months after the sale of the log cabin still say there is still a fresh smell of timber for months after which I find incredible.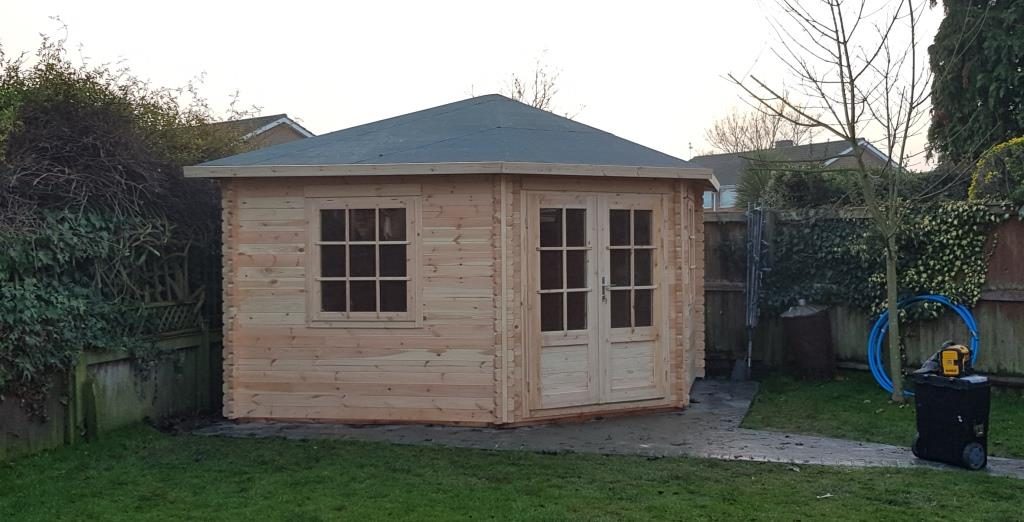 So this particular log cabin, the corner log cabin is a stunning building and what stands out about this cabin is the sheer height of the roof. Because the roof on this log cabin is a hip roof there seems to be serious height and space as you look up to the ceiling of the cabin and its quite breathtaking when you see it finished. What you will also notice in the pictures is the customer opted for the Georgian window pack. These Georgian window packs are well worth the money, they give the building that classy edge and make them stand out from the normal log cabin crowd and at just £39.99 extra, they are well worth the money.
Also with this log cabin the customer opted for the thickest logs available at 44mm and also chose the double glazing windows too, it's safe to say they went for the ultimate corner log cabin that money can buy and they were not disappointed. A quick mention about the log thicknesses because I am sure people will want to know what the difference is and to be honest it's exactly that – the thickness. Now there is a slight difference to the rigidity of the building, because they are thicker logs they will be a little bit more sturdy but that doesn't mean that the thinner logs aren't up to the job. The cabins will look almost exactly the same regardless of the thickness of the logs, there could be a slight difference in terms of the cabins insulating capabilities as they may retain heat a little longer but they all pretty much do a similar job in that regards. So don't panic if the extra thick logs are out of your price range because the thinner logs certainly still provide you with a great log cabin with all the benefits of the thicker logs.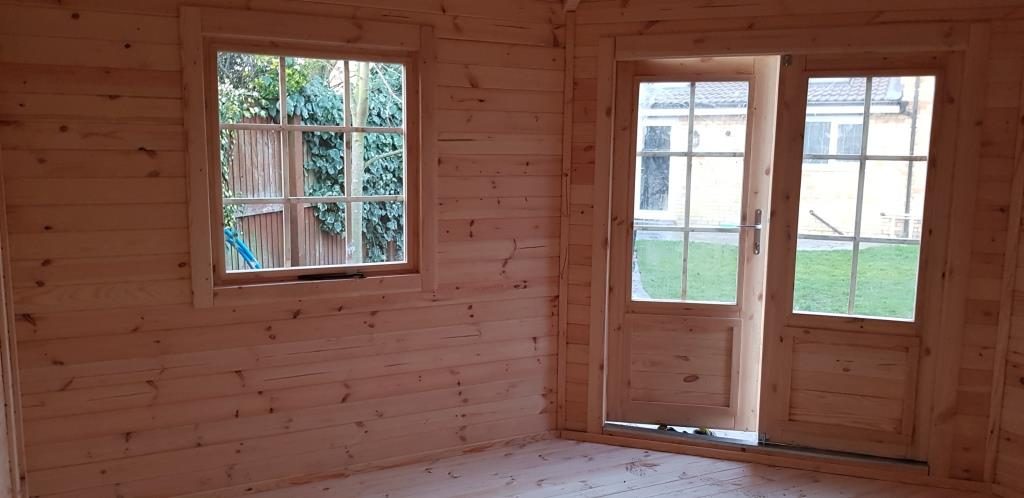 These buildings generally take us around 3 days to install and once we are finished the buildings are ready to go and be used, the only thing you will need to do is make sure you get the building treated within the first couple of weeks of it being erected and that is both inside and out. But don't worry about that for now as we will leave you with one of our aftercare guides so you know exactly what to do when we leave and we are always here at the end of the phone if you need any advice in relation to your new log cabin.
So what are you waiting for, click this link to see our corner log cabins https://www.timberdisegardenbuildings.co.uk/product/4m-x-4m-corner-cabin-free-installation/
Also if you would like any other information about other log cabins or wooden garden buildings please feel free to get in touch at support@timberdisegardenbuildings.co.uk or call us on 01302 811838. We enjoyed our time in York, North Yorkshire and are very much looking forward to returning to do our next log cabin there – could it be for you?