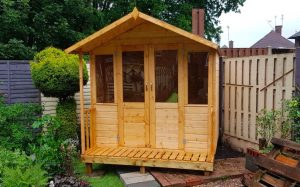 You know we like to talk about the weather on these blogs – well let me just tell you the weather on this particular day in Sheffield was horrific, it didn't stop raining all day but it wasn't enough to wipe the smile off the face of the customer who bought this awesome little wooden summerhouse with veranda. She was worried that we weren't going to turn up because the weather was so bad but that's the great thing about Timberdise – we turn up to install your new beautiful garden building regardless of the weather. It doesn't matter if its rain or shine we turn up and get the job done, even if by the end the day we are absolutely dripping wet and cold and in need of the nearest kettle to warm the bones – IT GET'S DONE! The only thing to consider right now is how much time you're prepared to wait to order your new building. We are now currently in June and already booked up until July for installations, so the time is now if you want your new wooden garden building in time for summer.
Let's take a look at the location for us today. Sheffield is a great location for us to install our wooden garden buildings, not because our summerhouses like Sheffield better than anywhere else but because it means our installation teams don't have a long drive home after a long day building in the rain.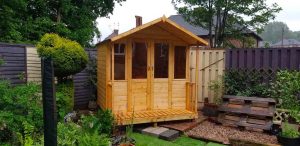 Let's look at the building, it is a 7×7 Traditional Summerhouse with veranda. The customer also opted for one of our Timberdise ground bases for this building as she didn't have the suitable ground for the building to be erected on. So, we supplied and fitted one of our specially designed timber frame bases that provide the building with a solid and flat level surface with great ventilation to get the maximum life out of your building from the start.
The 7×7 traditional summerhouse is a great little building and it was absolutely perfect for this customer as she wanted to turn it into a mini girl cave opposed to the popular man caves and she already had her paint picked out ready to paint it the day we were gone (providing the weather picks up). The windows on this building are all at the front of the building and there are large windows on the doors too. This is great to allow lots of light into the building which is great on those sunny days but also people quite often decide to put different kind of blinds up to shut out the light completely if you want the summerhouse to be a little bit darker. It has two fully opening doors and comes complete with lock and key. The walls are made from 12mm tongue and groove shiplap cladding. This is a very robust and strong weatherproof design which keeps out the wind and allows great water run off when it rains. The roof and floor are made out of solid sheet board and this customer also opted for the extra strength floor support pack which is well worth the money at £35 as it doubles the strength of your floor which is great for all our buildings not just the summerhouses. We do also offer other extras such as superior duty felt and shed boots should you have your own base ready for the building to go on.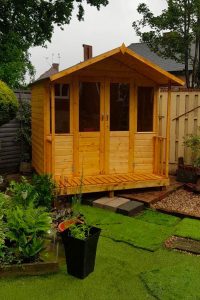 As you will see from the pictures provided, this little wooden summerhouse fits perfectly in the corner of this customers garden and we can't wait to see the pictures once she has painted it and filled it with furniture.
For more information about this or any other of our wooden buildings, please feel free to contact us on 01302 811838 or at support@timberdisegardenbuildings.co.uk we look forward to seeing you soon and installing your new wooden garden building.