If we don't have the size you want, then we will make a bespoke garden shed for you!
Timberdise Garden Buildings is about to enter its fourth year in operation and when we started out the only thing we did was bespoke handmade sheds. We then moved away from that to offer customers a set range of products covering various different wooden garden buildings from sheds, to summer houses to log cabins. But now we feel it's time to go back to our roots and offer our amazing customers the opportunity once again to build you the wooden garden building exactly how you want it.
Firstly, I would like to mention our new partner in providing you these new buildings as Shire Garden Buildings based in Wisbech, Cambridgeshire. Shire is a family run business just like Timberdise and their values closely follows that of our own here at Timberdise Garden Buildings. Shire Garden Buildings though has been operation since 1981, they have a number of factories and warehouses which cover some 20 acres. All the wood is slow grown, high grade timber imported from sustainable sources in Russia and Scandinavia. All the buildings are manufactured on site right here in the UK and then they are even stored indoors to make sure they reach you in perfect condition.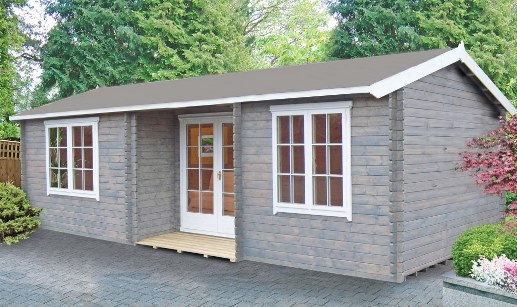 Shire Garden Buildings control everything, they have invested in the best machinery which includes a planing mill and a self-contained joinery production. They plane, machine and cut the timber and construct the panels so they can control quality from the start. Shire buildings are produced to the highest standard and most importantly of all for us here at Timberdise is that Shire Garden Buildings care just as much as we do about their products. They are passionate in delivery the best quality buildings that money can buy along with a great service to go along with it.
Working with Shire we are able to also offer our customers the ability to pick a delivery date that suites you, we don't force any dates on you and that means that you are in total control of when you want your custom built garden shed delivered.
We also offer a ground base and installation service should you require but this work is mainly carried out by a Timberdise team as we carry out our installation work ourselves. We control your order and we are on hand six days a week should you require any help and assistance with your order.
So, let's talk about the bespoke – made to measure shed service that we now provide. A lot of customers over the last couple of years have constantly asked us about bespoke garden sheds and we are really excited to be able to offer you this service going forward. It's really straight forward and I will talk you through how easy it is to get a quote and order your made to measure bespoke wooden garden building.
So, first thing to do before you decide if you need a custom built shed, summerhouse, playhouse or log cabin is to have a look at the range we offer. Because if we have the perfect building with the perfect size first, they we don't need to design you another one and the main benefit of this is that you will have your new garden building a little quicker than a custom built design.
If the building you're looking for isn't on our site, then we can assist.
The first thing to do is give us a call on 01302 811838 or alternatively send us an email at support@timberdisegardenbuildings.co.uk and then we will arrange to give you a call back at the time that best suits you.
We need to speak over the phone because there is a few questions, we need to ask to make sure we get the design exactly how you want it. Once we know what type of building and the size you are wanting, we will then produce you a quote. This can take up to two working days and then if you are happy with the design and the price you are then able to place the order.
From that point onwards it will take us around 4 to 6 weeks to produce your custom built garden building. We will then delivery it for free to anywhere in the mainland UK. It is that simple.
So, what are you waiting for? Have a look around our site and if we don't have what you are looking for then get in touch and we will custom build your dream garden building.