I guess the simple answer is they are both kind of the same thing but what makes them different is the way they are designed.
A garden log cabin is indeed a garden room, but they may not look the same as a conventional garden room due to the cabins distinguishing feature that make it look slightly different to garden room but they both do exactly the same thing.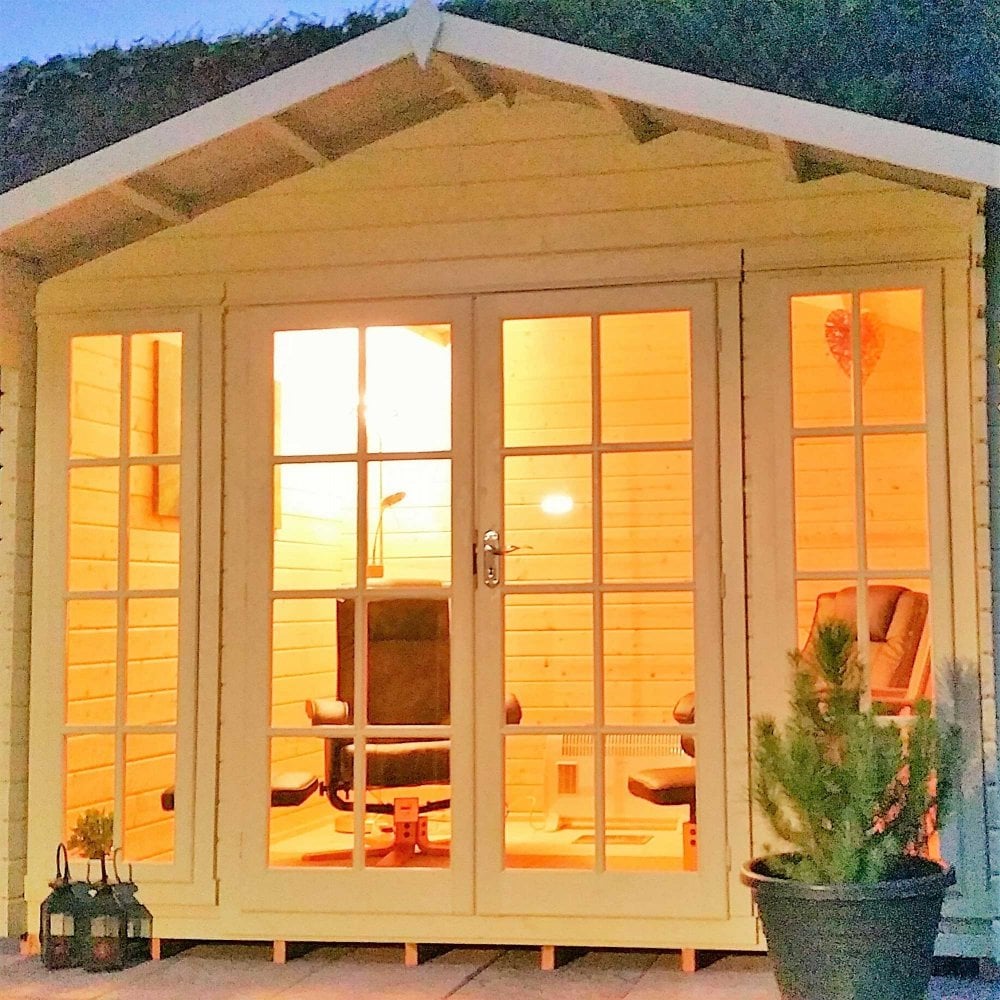 Don't get a log cabin or a garden room confused with a summer house, they are two very different things. The main one is that a log cabin or garden room has the ability to be used all year round whereas a summer house isn't really suitable for use throughout the winter. Sure, some people will use them in the winter but in comparison to a log cabin or garden room they are not in the same league.
So, our garden rooms are currently in the design of a log cabin. When you think about a garden room you think about the ability to have an extra room in the garden that you can use for pretty much anything you want without all the additional costs that comes with a regular house extension.
Benefits of a garden room or log cabin
You don't have to worry about planning permission (in most cases)
You don't have to worry about builders working on your property for weeks possibly months until the work is complete
There's none of the mess and dust
Probably the most important reason of all is the cost. A garden room or log cabin is a fraction of the cost and time than a house extension
The finished product is far more striking and eye catching than your normal house extension
Recent research suggests that adding a log cabin or garden room to your property will increase the value of your home. The typical example is that a garden room or log cabin around £5k will add around £30k to your property. So not only are you getting a superb looking addition to your property than can be used for more or less anything, you are also adding much needed value to it as well.
So now that we've dealt with the fundamentals, let's take a closer look at what is a log cabin and what makes it a garden room.
Let's look at the walls of a garden room because that is what they are, a log cabin is a specific design of a garden room. For one the walls of the cabin are thicker than your average garden building. Economy cabins start at a 19mm thick wall but when you go up to look at the premium cabins they start at 28mm, then they work their way up through 34mm, 44mm and the absolutely incredible 70mm thick walls.
Wood is a natural insulator so the thicker the wood the better the insulation you get. But what wood also is great at doing is deflecting heat. So in the winter your cabin will hold in the heat very well and in the summer the thicker the walls the cooler the cabin will be. This is another reason why a log cabin is a great option to have as your choice for your perfect garden room. The way the logs are designed is to have water tight joins that will keep your cabin dry with the insulation working efficiently. The thickness of the wood also eradicates any need for any artificial insulation on the walls, you simply don't need it, thus saving you extra money on wall insulation because the wood provides all you need.
Let's next take a look at the doors and windows. All cabins will come with single pain glass, but you have the option on all cabins to upgrade the windows and doors to double glazed, which offers further insulation on the building. Also, when you opt for a cabin with wall thickness of 34mm or above you get an automatic door and window upgrade so they are fitted with rubber seals to yet again add to insulation of the building.
What about the floor and roof? Cabins come with flooring and roofing tongue and groove boards of 14mm, but again when you upgrade to a cabin with walls of 34mm or above you will get an automatic upgrade for the floor and roof to 19mm thickness which again adds to the insulation of the garden room.
What about insulated garden rooms or log cabins?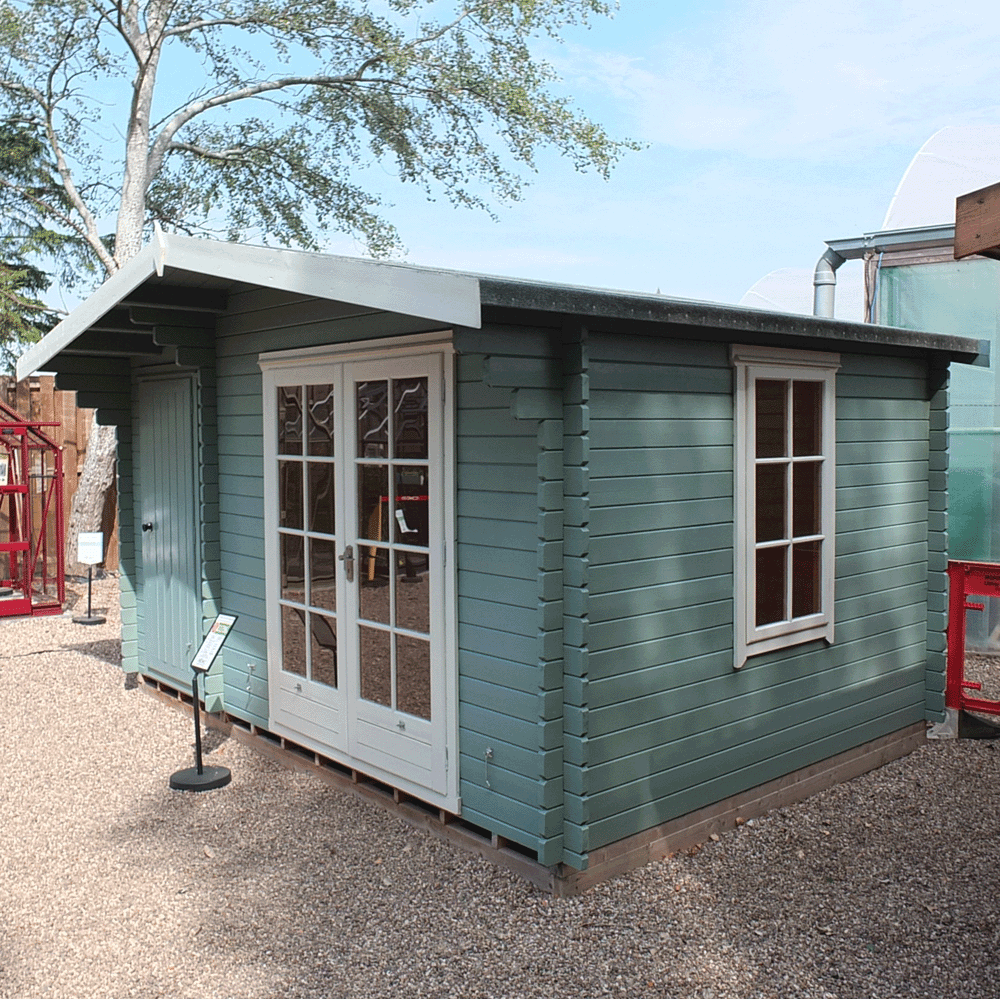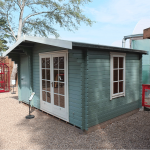 Now, I know most of you will want to know if we at Timberdise offer any further insulation options to the building to make it an insulated garden room and the answer is yes we do.
We don't offer any insulation on the walls because as explained earlier you don't need it as the timber and the design of the log cabin ensures if offers you more than enough insulation against the changing seasons. Where we do offer further insulation is on the roof and floors. This is an optional extra for those wanting to take their garden room to the next level, we now offer floor and roof insulation to all cabins in the Timberdise range.
The way we insulation the garden room is to put a layer of insulation under the floorboards to add extra insulation benefits to the floor and we also add an extra special layer of insulation material over the top of the initial roofing boards. We then on top off the insulation on the roof by adding a further layer of roofing boards over the insulation to make it like a sandwich insulation on the roof. This then gives the cabin the extra layer of insulation required to make these some of the best insulated garden rooms on the market.
They are then perfect for use all year round and can be used for just about anything you can think of. We have installed these garden room cabins for offices, salons, home bar, cinema rooms, music rooms, gyms etc etc – The list just goes on and on!
The garden rooms are also perfect for adding extra's such as electricity to add power points and lighting making it a home from home – an insulated garden room which is perfect for any setting. By adding electricity this also allows you to add electric heating such as a fan heater or an electric radiator for t colder winter months. We have even had customers extend their home heating system to provide a radiator within the cabin.
For your free no obligation quote on your perfect garden room, please take a look at our log cabin listing here https://www.timberdisegardenbuildings.co.uk/product-category/log-cabins-garden-rooms/premium-log-cabins/
Once you have found your perfect garden room with one of our amazing log cabins then you can place the order through the website or give us a call on 01302 811838 for any extra help. But if you're wanting to add insulation then send us an email to support@timberdisegardenbuildings.co.uk make sure you include the information listed below:
Your chosen log cabin model
The size you require
Single or double glazed
Name
Contact number
Email
Do you require installation
We will then get your free quote back to you within 2 working days.