There has never been a better time to order your new wooden playhouse. Because of the superb summer we had last year we literally ran out of playhouses come August and there were a couple of months to wait before stock was replenished. The thing to remember is, why wait for the six week holidays to order your playhouse when you can get it up and ready now. Another thing to remember is our installation teams are at their busiest in the summer months and our slots for installation fill up really quickly and so to avoid disappoint and earache throughout the summer get yours ordered today so your children don't miss out.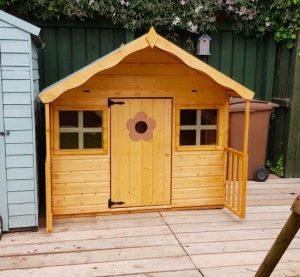 This installation was done over in Hull (https://en.wikipedia.org/wiki/Kingston_upon_Hull) on a beautiful sunny day, what was also great about this installation was that it was a return customer. We love it when we get repeat customers as it shows we're doing our job right and people are happy with the service they receive. This particular customer bought a double storey playhouse for their grandson the year before at their own home. He loved the playhouse so much that this year they decided they were going to buy him his own wooden playhouse but at his home where he lives with his parents, also in Hull. It was a pleasure to see them again and they were really thrilled with their new wooden playhouse. Not quite as big at the one at their house due to the space available but still was expecting their grandson to be over the moon. It's always good to see the kid's reactions when they get home from school to their new playhouse but we left Hull on this particular day long before he was home from school.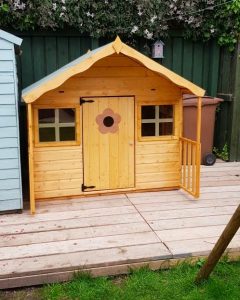 So let's talk a little bit about this building – the honeysuckle playhouse. It can be bought in three variations. There is just the normal honeysuckle such as the one that this customer bought which sits directly on the floor. Then we have two more – one with a tower so the building is lifted off of the floor which adds to the excitement of the building for the children, but if you want to really go for it, we have the honeysuckle playhouse with tower and a slide. So not only will the children have the excitement of climbing up to the playhouse, they can also get back down by going down the slide that is securely attached to the tower. I know from personal experience with my own daughter that they have hours and hours of fun in this, especially when there little friends come round to join in. You can sit back and relax with the other parents while the kids entertain themselves in the playhouse – trust me it is money well spent.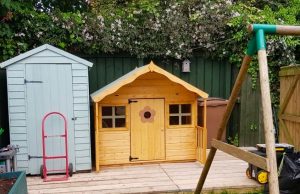 These wooden playhouses all come with the EN71 safety certificate for peace of mind. They are all smooth planed timbers so you don't have to worry about splinters in fingers. The doors are also constructed to leave quite a large gap around the edges of the doors and this is to prevent trapped fingers. The windows are made from shatterproof styrene, so you don't need to worry about it being glass and smashing into a million pieces which would be no good for a children's playhouse. There are also no locks on the doors, so you don't have to worry about them getting locked in. We really have thought of everything when it comes to the wooden playhouses.
If you would like to view these playhouses click this link https://www.timberdisegardenbuildings.co.uk/?s=honeysuckle
Alternatively if you would like to contact us feel free on 01302 811838 or at support@timberdisegardenbuildings.co.uk